Official Website of BoracayResorts.com - Boracay Island Hotels and Resorts
"Boracay Peak Season Advisory - Book Boracay Online as Early as Now"
Fast, friendly, safe, secure and reliable Boracay reservations!
Boracay Sports, Boracay Activities : Boracay Beach Resorts
Boracay Mountain Biking - Boracay is extremely scenic, with many challenging and varied routes around the island, some 25 kilometres long. Most of the routes are on loose dirt roads and steep climbs up to lookout points that give spectacular views across clear, blue waters to the distant islands. Then a steep drop down along single track paths through thick vegetation and native villages to another deserted beach. Cycling along these beaches at low tide is an exhilirating experience and then finally back through the coconut groves to the main beach. Rides may end with a long cool swim in the ocean.

Bike rentals are available at USD 2.00 per hour or USD 12.00 per day. For the serious biker we suggest that you bring your own bicycle. If it comes as extra baggage from Manila to Caticlan, the cost is minimal.

For longer two or three day trips the Nigi Nigi boat will take you to Caticlan on the island of Panay where the opportunities for adventurous cycling are unlimited.
Boracay Kayaking - The clear, blue waters are ideal for the novice. The rocky coast line and deserted sandy beaches can be reached within one half hour paddle. For the experienced and adventurous kayakers, Boracay can be circumnavigated in a day (a distance of approximately 20 kms) or neighbouring islands can be easily reached.
Two and three day camping trips down the coast of Panay, a large neighouring island, can be organized with accommodation in beach bungalows or camping right on the beach. There are good quality, challenging rapids for white water kayaking available only one hour from Caticlan and it is possible to organize trips that combine kayaking and mountain biking.
Good quality touring sea kayaks (Puffins) are available for rent on Boracay at the following rates :
Singles USD 8.00 per hour, USD 30.00 per day
Doubles USD 12.00 per hour, USD 32.00 per day
The best time for white water kayaking is July to November. Sea kayaking is good all year round although the rainy season is from July to November and it can be quite windy.
Boracay Windsurfing - Boracay is one of the best windsurfing locations in South East Asia. The winds blow fairly consistently all year but, of course, stronger during the rainy season. The Boracay Challenge Cup will be held from 11 to 17 January 1998.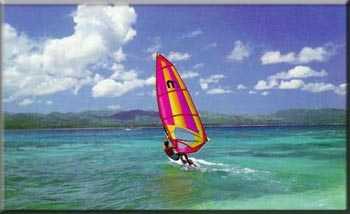 It is also ideal for beginners because tthe first 600 metres out from the beach is only 1.5 metres deep and protected by a coral reef resulting in flat waters. There are a number of establishments renting top quality equipment with a good selection of board and sail sizes. Average costs are below.
Boracay Tennis - There are two good quality courts next to Nigi Nigi with flood lights for cooler evening games. They are nearly always available. Use of the court costs USD 4.00 per hour. There are reasonable quality rackets and balls available for a nominal rental fee.

Boracay Mountain climbing and Boracay Rainforest Trekking - There are two mountains over 2000 metres high on the neighbouring island of Panay. Treks to these mountains can be arranged, or one can go trekking through the rain forests, passing through tribal villages on the way to spectacular waterfalls. There are excellent caves only one hour from Boracay for both the serious and novice caver. These caves are at least three kilometres in length.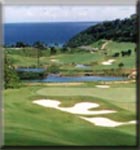 Boracay Golfing - Enjoy a round of golf on a truly spectacular course situated in a lush tropical setting. The clear blue water of the South China Sea is visible from many vantage points on the course and there are wonderful views from the 19th hole of other islands in the Philippines archipelago.
This championship, eighteen hole, 6524 yard, par 72 golf course was designed by Graham Marsh.
The golf carts are all equipped with GPS (determines your exact location using satallites) and good quality golf clubs are available for hire.
The pro shop is stocked with all of the golf accessories. The green fees of approximately USD55.00 per round, per person, includes the mandatory golf cart hire and caddie. Club rental costs approximately USD15.00 per round, per set.
The following other sports activities are also readily available.
Jet Skis can be rented for USD 70.00 per hour but can only be used in designated areas.
Hobie cats (catamaran) can be rented, weather permitting, for USD 30.00 per hour.
Water skiing is available from December to May for USD 70.00 per hour.
More detailed information on the above activities can be supplied upon request. We would also be pleased to assist in arranging for you to participate in any of these activities. Boracay Reservation Office email: niginigi@pworld.net.ph
Boracay Beach Hotels and Beach Resorts - Official Website of BoracayResorts.com
"Boracay Peak Season Advisory - Book Boracay Packages as Early as Now"
Fast, friendly, safe, secure and reliable Boracay reservations!
Boracay Island combines crystal clear waters, sugary beaches that squeak when walked on, and lush hilly landscapes into an idyllic tourist haven, that's guaranteed to fascinate and lull visitors into tranquil harmony with its simplistic beauty. Visitors commonly refer to Boracay as a breath-taking, unbelievably magical Island. A paradise set in the unspoilt South China Seas. more Boracay Island information ...